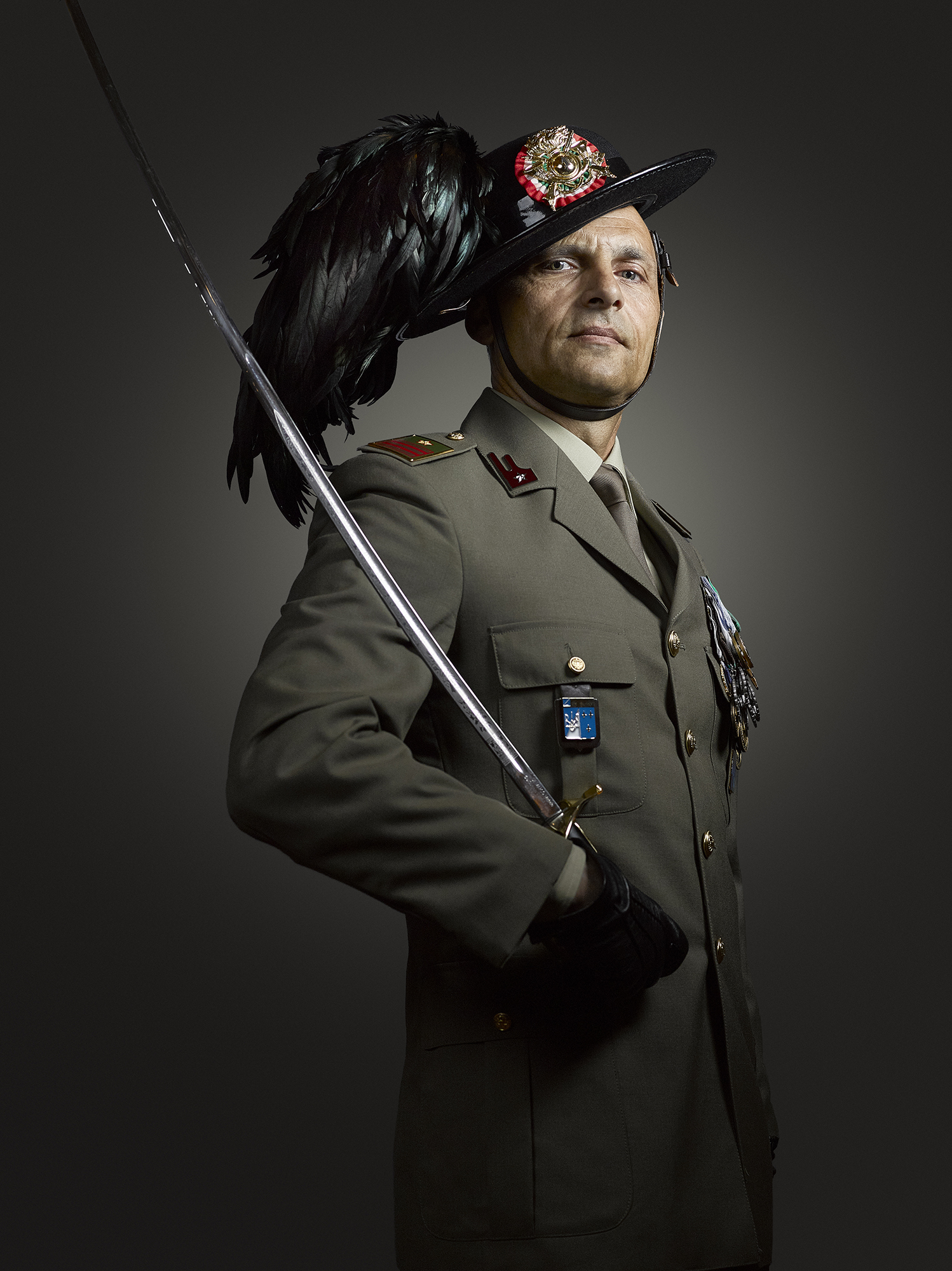 Ritratti dell'esercito italiano
Donors
Special Thank you to Simon Vail, Marina Davies, Steven Byrne, Giovanni Patti, Reggimento "Lancieri di Novara" (5º),
Artists Statement/Dichiarazione dell'artista
Dopo la presentazione di "Soldiery Army Portraits" - ritratti di uomini e donne dell'esercito britannico - Rory Lewis ha cercato di realizzare un progetto altrettanto sorprendente ed emozionante. Il risultato è l'opera "Soldati della Repubblica", una documentazione fotografica dell'Esercito Italiano nei primi anni del 21° secolo. L'autore ha intenzione di organizzare un'esposizione completa dell'opera a Roma.

Following his successful portrait exhibition

Soldiery (British Army Portraits)

. Rory Lewis Photographer has embarked on a new portrait project documenting the Italian Army. Entitled Soldati della Repubblica, Rory has spent the summer of 2018 in Italy capturing portraits of a series of uniquely historical and diverse regiments of the Esercito Italiano.

L'Esercito Italiano è un'organizzazione unita e coesa, con un prezioso patrimonio di storia e tradizioni. Rory Lewis ha sviluppato un progetto che documenta l'Esercito Italiano attraverso un'interpretazione contemporanea della tradizionale ritrattistica storica. Per essere completata, l'opera "Soldati della Repubblica" ha richiesto più di sei mesi di lavoro, in 10 diverse locations, con 278 soggetti ritratti, dai comandanti esperti e decorati ai soldati di recente arruolamento.
Le fotografie presenti mostrano le varie armi e specialità dell'Esercito Italiano; reggimenti dalla storia gloriosa, equipaggiati oggi con i più moderni materiali.
La fotografia di Lewis trae ispirazione dalla tradizione del ritratto militare e in particolare dal lavoro di George Dawe RA (1781 - 1829). Lewis usa la luce, l'ombra e la composizione per ritrarre sia l'immagine esteriore del soggetto sia la sua identità.
Nonostante servano in una grande organizzazione, i soldati sono tra loro diversi: ciascuno di loro è, infatti, unico e irripetibile. Gli scatti di Lewis catturano quindi l'individualità e le caratteristiche esclusive di ognuno di essi. Nei ritratti esposti, i soldati sono stati fotografati con diverse uniformi. Esse contengono caratteristiche uniche, tipiche di ciascun reparto di appartenenza, simboli della storia e delle tradizioni dell'unità e dell'attuale impiego operativo.
PROJECT SPONSORS/Sponsor del progetto
Milan/Milano
11th – 14th December 2018
Palazzo Cusani
Via Brera, 13-15,
20121 Milano
MI, Italy
Regiments Photographed Thus Far/ Reggimenti fotografati fino ad ora